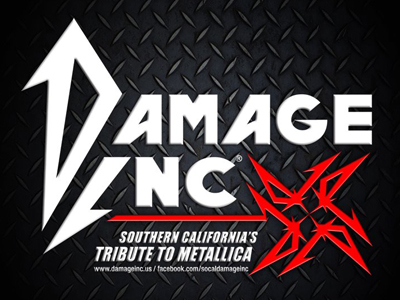 Date:
Saturday, November 7, 2015
Ticket Price:
$15.00

Doors Open:
7:00PM

Age Policy:
All Ages
Seating Sections:
GA
Purchase Tickets
Seating Map
Line-Up:
1. Damage Inc
2. Slaves Against The Machine
3. 101 Proof
Damage Inc Media:

Damage Inc Description:
We're off to never never land…
Metallica is one of the most revered and celebrated hard rock acts of our generation. With a career that is still going strong after 30 years, Metallica has a fan base ranging from kids to adults, and continues to gain fans every day.
Damage Inc brings you the most authentic representation of a live Metallica show - all of the energy, power and charisma that you would expect from a Metallica concert. Not to mention the most important thing… they SOUND like Metallica!
But they don't think they're Metallica. Damage Inc are huge fans of Metallica themselves, and put their passion for the music in their performances. Their goal is to share their love for Metallica with everyone, and to make sure every audience member has just as much fun as they're having. We challenge you to go to a Damage Inc show and not have a great time!
Purchase Tickets:
Need Tickets?
Our box office is open Mondays through Fridays from 9AM til 5PM!
If you're in the neighborhood and would rather buy a ticket from our box office, then call ahead and we'll be more than happy to get you a ticket!
To call the box office ahead of time, please reach us at (951)200-4465!
Seating Map: