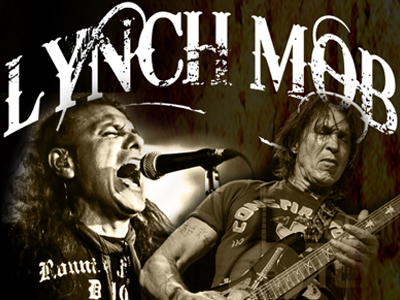 Date:
Saturday, September 19, 2015
Ticket Price:
$22.00

Doors Open:
7:00PM

Age Policy:
All Ages
Seating Sections:
GA
Purchase Tickets
Seating Map
1. Lynch Mob
2. Electric Junkies
3. Doctors of the Earth
4. Kantation
5. Scarlet Vice
Lynch Mob Media:

Lynch Mob Description:
George Lynch came to fame in the 1980s through his work as the lead guitarist in the band Dokken. Dokken had a string of successful platinum albums including "Under Lock and Key" and "Back For The Attack", both of which featured Lynch's inventive and intricate guitar work, including his signature instrumental track "Mr. Scary" Lynch Mob was formed in 1989, from the ashes of George's former band, Dokken. The band original line‐up also featured Dokken's drummer, Mick Brown. The first Lynch Mob album was released in 1990, titled Wicked Sensation peaking at #46 on the US Charts. Subsequent releases included Lynch Mob (1992) US #56, Smoke This (1999), REvolution (2003), Smoke And Mirrors (2009). In 2012 Lynch Mob released "Sound Mountain Sessions" which included original Lynch Mob vocalist Oni Logan as well as bassist Robbie Crane (Ratt & Vince Neil, Black Star Riders) and drummer Scot Coogan (Ace Frehley, Brides of Destruction & Lita Ford). In 2013 Lynch Mob released "Unplugged – Live From Sugar Hill Studios" (Rat Pak Records) an all‐acoustic performance of their classic hits.
  
In December 2013, Lynch Mob hit #6 on the Billboard Hard Rock Albums chart with the critically acclaimed album "Sun Red Sun" (Rat Pak Records). "Sun Red Sun" was the bands 11th release and was written and recorded by the same line up as the "Sound Mountain Sessions" EP (Lynch/Logan/Crane/Coogan). "Sun Red Sun" once again highlights the unique pairing of Oni Logan & George Lynch and showcases their ever evolving songwriting abilities.
Purchase Tickets:

Seating Map: