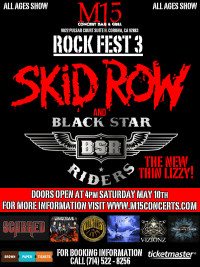 Date:
Saturday, May 10, 2014
Ticket Price:
$30

Doors Open:
7:00pm

Age Policy:
All Ages
Seating Sections:
GA
Purchase Tickets
Seating Map
Skid Row Media:
Skid Row Description:
The first rebellion started in 1986.
New Jersey kids, punk and metal attitude, determined to conquer the world. All for one, banded together with single-minded purpose. The battlefield was the stage, the songs their arsenal in an us-against-them musical coup d'état.
Top Ten singles. Gold and multi-platinum sales. No. 1 on the Billboard album chart. The world was theirs, the rebellion won, until there was nothing left to fight for — so they fought each other. Following an ill-advised South American tour in 1996, the band was finished.
But the core camaraderie never died.
Skid Row returned to the big stage — literally — opening for Kiss in 2000. Exhilarated to tour with the heroes who rallied them in the first place, the band was reinvigorated by being underdogs who needed to come out fighting to prove themselves.
Black Star Riders Media:
Black Star Riders Description:
In October 2012 Thin Lizzy announced that they would not be recording new material under the Thin Lizzy monicker. The last incarnation of the band – Scott Gorham, Brian Downey, Darren Wharton, Ricky Warwick, Damon Johnson and Marco Mendoza – would be looking to form a new project.
Step forward Black Star Riders…
Purchase Tickets:


Seating Map: