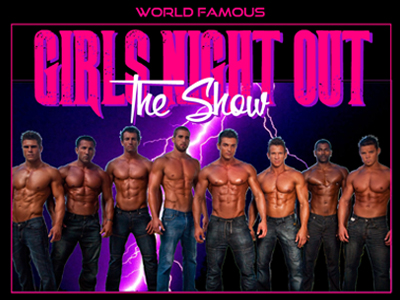 Date:
Thursday, May 19, 2016
Ticket Price:
$18.00

Doors Open:
7:00PM

Age Policy:
21+
Seating Sections:
Floor, Loge, VIP Booths, Party Box
Purchase Tickets
Seating Map
Featuring the original Chippendales Touring Cast.
Girls Night Out Media:

Girls Night Out Description:
Girls Night Out the Show has quickly become the hottest ticket for ladies entertainment on the road today.
Our legendary touring troupe is known for their fully choreographed performances and for its performers' distinctive shirtless bow-tie and cuff's & collars outfit. Girls Night Out the Show features some of the most physically perfect male dancers that artistically capture a wide range of female fantasies delighting audiences with a series of disarmingly sexy, yet tasteful, dance numbers and exciting routines.
Girls Night Out the Show is immediately recognizable and the show has been established as the gold standard in women's entertainment. If you have yet to see the men in action, be sure to catch the show on their nation-wide Most Wanted Tour!
Purchase Tickets:
Need Tickets?
Our box office is open Mondays through Fridays from 930AM til 6PM! Box office is also during show times. If you're in the neighborhood and would rather buy a ticket from our box office, then call ahead and we'll be more than happy to get you a ticket!
To call the box office ahead of time, please reach us at (951)200-4465!
Seating Map: