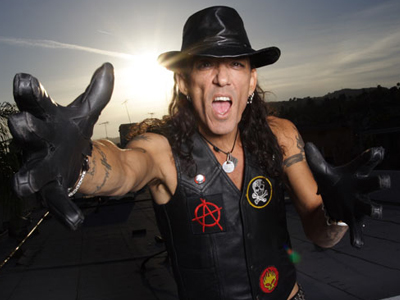 Date:
Saturday, May 14, 2016
Ticket Price:
$22.00

Doors Open:
7:00PM

Age Policy:
All Ages
Seating Sections:
Floor, Loge, VIP Booths, Party Box
Purchase Tickets
Seating Map
Line Up
1. Stephen Pearcy formerly of RATT
2. Dayzero
3, Syndicate 4
4. Shield of Faith
5. Wickeds End
Stephen Pearcy Media:

Stephen Pearcy Description:
Stephen Pearcy, creator, Lead vocalist, solo artist, former founder, song writer for the mega platinum rock band RATT releases his 4th solo records, "SMASH" Episode One - Three. 2016. The first single "I Can't Take It" from his new release titled "SMASH", debuted on Eddie Trunks show. The first (4) singles from SMASH out now!
"I Can't Take It", "Just One More Time" , Recipe For Disaster" and "White Heat" available now 2016 on Top Fuel Records Itunes.
The band Ratt created by Stephen in 1983 released a (6) song EP on Time Coast Records. Signed to Atlantic Records in 1984 the bands 1st hit single "Round & Round" from the multi platinum top ten debut album "Out of the Cellar" sold more then (4) million records in the US alone.
As founder, lead singer, and songwriter of the metal band RATT, Stephen Pearcy led his creation to mega multi-platinum success year after year and captured critical acclaim for his performances. RATT, formed, in Los Angeles in 1983 from his previous "brain child" band Mickey RATT, was known for their flamboyant appearance, rebellious attitude, and take no prisoner approach to metal. Atlantic Records recognized Ratt's potential and star power and signed the band to a contract resulting in the 1984 multi platinum album "Out of the Cellar", which became one of many multi-platinum successes.
The record generated many top ten singles "Round & Round", "Back For More" and "Wanted Man", followed by sold out tours throughout the world. Their last recording, 1991's RATT "81-91" marked the end of an era, and to the many die hard "metalists" who seemingly could never get enough of Ratt or Pearcy, it seemed to mark the end to a self proclaimed "dynasty of rough & tough metal" that ruled thru the 80s-90's- 2000's. The band regrouped in 2007 and released "Collage", also releasing the self titled "RATT" and most recently RATT "Infestation". At this time Pearcy is in the studio recording his 4th solo record titled "SMASH", Episodes (1-4) with four songs per EP, the singles being released through 2016 until the record is complete.
Pearcy also tour's to this day, not as much solo playing all the Ratt hit's he wrote or co wrote.
Stephen created his own indie record label Top Fuel Records in 1995 and released several solo records. Over (15) Million records sold in the US alone, over (20) albums recorded to date by Stephen Pearcy, he is an accomplished producer, creator of TV programs, writer, art director, author of the book "Sex, Drugs and Ratt & Roll", marketing director and owner product creator of "Mic Knuckle"-hands free mic holder. Also involved in music for ESPN2 NHRA Drag Racing and sponsoring several top fuel cars since the mid 80's-90's 2000's.
RATT videos and music in movies include; "Point Break", "The Golden Child", "Weird Sience", TV shows and recently RATT songs re recorded by Stephen Pearcy for "The Wrestler". Including solo music and video's for ESPN2 NHRA Drag Racing where Pearcy has sponsored Top Fuel race cars since the mid 1980's and recently under .
Stephen Pearcy under Top Fuel Records re recorded (2) songs from Mickey Ratt for the TV series ".Wicked City " 2015. Also had a cameo acting part in the series opener.
In 1992, Stephen, explored other areas of interest, and created Arcade in 1993 with Cinderella drummer Fred Coury. The band released (2) records under the Epic/Sony label. Another (2) records under Pearcy's own Top Fuel Records, the latest compilation released in 2013. Other project's followed, Vicious Delite, Nitronic and Vertex with guitar hero Al Petrilli. Now Pearcy is a solo artist starting with the release of his first ever solo debut in 2002, "Social Intercourse". Followed by "Fueler", "Under My Skin" and soon to be released 4th solo CD "SMASH" Episode One - Three in 2016.
During RATT's thirty year span with Pearcy at its helm, the band has released (10) albums, played over a thousand shows worldwide, sold over (15) million records in the US alone. To date Pearcy has decided to no longer tour with his band RATT until the solo records complete.
Purchase Tickets:

Seating Map: