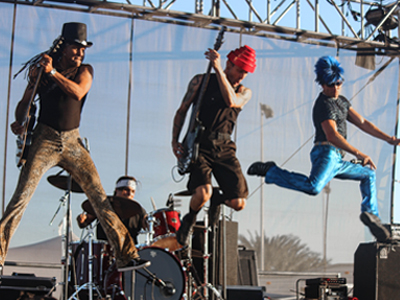 Date:
Friday, April 1, 2016
Ticket Price:
$15.00

Doors Open:
7:00PM

Age Policy:
18+
Seating Sections:
Floor, Loge, VIP Booths, Party Box
Purchase Tickets
Seating Map
80z Allstars Media:

80z Allstars Description:
The 80z All Stars have been rocking for over 15 years and are the premier, most complete 80s tribute act in Southern California. From Devo to Bon Jovi, Rick Springfield to Duran Duran, the band covers them all! Their high-energy performances have been seen from Orlando to Hawaii, Las Vegas to Cabo San Lucas, and everywhere in between. Maybe you caught the band at the 2010 Major League Baseball All-Star FanFest? They have had the opportunity to share the stage with such 80s icons as Foreigner, Bret Michaels, Berlin, The Bangles, The Fixx, Joan Jett and numerous other national acts.
The band is also a regular at the Disney properties in both Anaheim and Orlando. Corporate events, weddings, civic festivals, private parties; the band excels at every imaginable event. Whether you're ready to relive the days of big hair, bright colors and jelly bracelets, or are just in the mood for great entertainment, all you need to do is join in the madness that is an 80z All Stars show!
Purchase Tickets:
Need Tickets?
Our box office is open Mondays through Fridays from 9AM til 5PM!
If you're in the neighborhood and would rather buy a ticket from our box office, then call ahead and we'll be more than happy to get you a ticket!
To call the box office ahead of time, please reach us at (951)200-4465!
Seating Map: